Muintir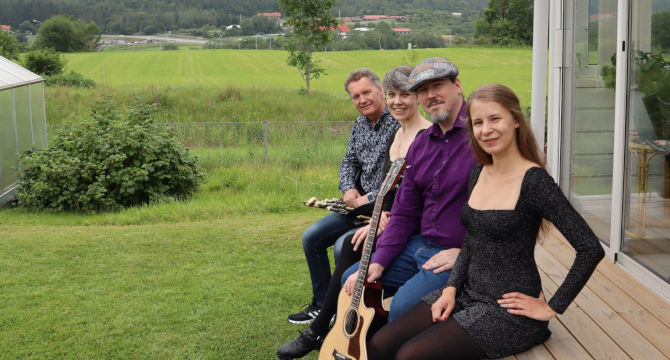 Muintir was established in Oslo in 2020 by Brendan Monaghan, Kaja Kowalska and Cecilie Stensrud.
They debuted the same year with several concerts at the Dubliner Folk Pub. In 2021, guitarist Gareth Eason joined the group.
Together, they have more than 60 years' experience on the music scene and a formidable knowledge of the Irish repertoire of songs and tunes. The band is versatile and can just as well play an intimate concert at a cultural café as do lively pub gigs. Or what about a full-blown stage show filled with Irish music and dance?
Muintir ble startet i Oslo i 2020 av Brendan Monaghan, Kaja Kowalska og Cecilie Stensrud.
De debuterte samme år med flere konserter på Dubliner Folk Pub. I 2021 ble gruppen utvidet med gitaristen Gareth Eason.
Samlet har de fire medlemmene over 60 år i bransjen og en formidabel kjennskap til det irske repertoaret, både sanger og instrumentallåter. Bandet er svært allsidig og kan like gjerne holde en intimkonsert på en kulturcafé som å spille til dans på en pub. Eller hva med et helaftens sceneshow fylt med irsk dans og musikk?
Brendan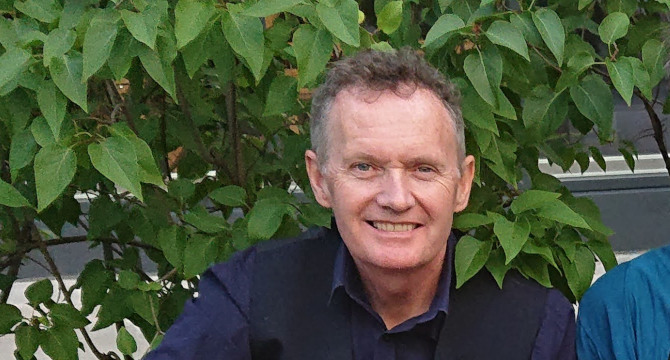 Brendan is from Banbridge in Northern Ireland and has worked as a professional folk musician since 1991.
He is a multi-instrumentalist specialised in uilleann pipes (Irish bagpipes) and tin whistles.
Brendan has toured extensively in the USA, Canada, and most of Europe, notably with the famous show Celtic Thunder. Since 1992, he has performed regularly with Phil Coulter in venues such as Carnegie Hall, Boston Symphony Hall, Radio City NY, the Lincoln Centre NY, and at the White house for President Clinton in 1998. He has also performed with artists like Justin Hayward, John Prine, Emmylou Harris, Elvis Costello, Steve Harley and Nanci Griffith.
Since 2020, Brendan has established himself in Oslo, where he is currently performing and teaching Irish music.
Cecilie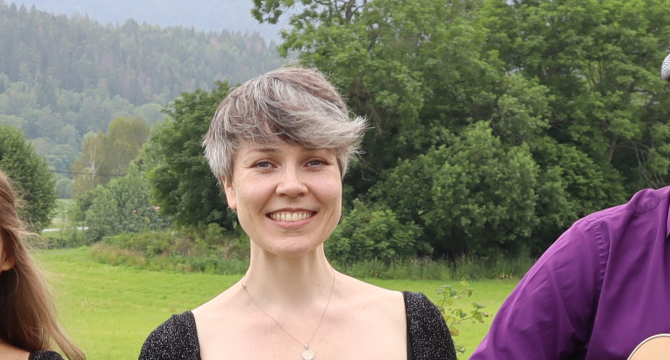 Cecilie started out with modern Irish dance in 2008 and has since then developed her passion for Irish music and more traditional dance styles.
She is currently the only one in Norway to teach Irish 'sean nós' or 'old style' dance. She is a member of "Sound Irish Dance Company" as well as a teacher at the dance school "Sound Irish Dance Factory." Together with the dance company, she has had the possibility to work with world renowned dancers and choreographers like Ronan McCormack, Breandán de Gallaí, Zara Curtis and Dearbhle Lennon, as well as performing with several bands and artists, among which is a guest performance with The Chieftains at their Oslo concert in 2018.
Cecilie has a Ph.D. in Norwegian opera history from NTNU and has studied theatre and song at the Conservatory of Dijon in France. When not performing, she is working as a producer for the contemporary music ensembles Cikada and Oslo Sinfonietta.
Kaja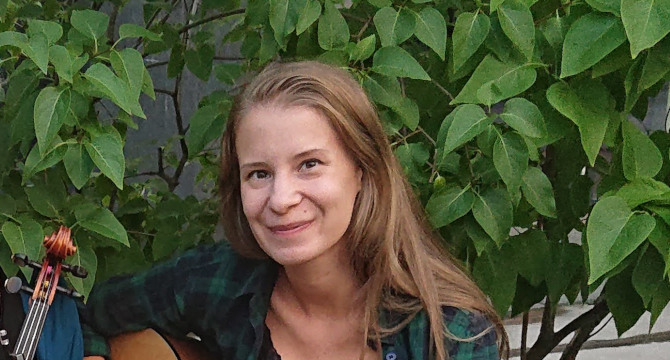 Kaja has been singing and playing guitar since her primary school days, and apart from participating in numerous music competitions, she started her career busking in the streets of Ustka by the Polish seaside, while playing in a couple of local bands.
Her repertoire spanned from classic rock to heavy metal, with detours into flamenco, pop, and folk.
A passion for Irish music, however, led her to take up both tin whistle and Irish dancing. Kaja has been dancing at the "Sound Irish Dance Factory" since 2016, where she has had the chance to learn from world renowned dancers and choreographers like Ronan McCormack, Breandán de Gallaí and Zara Curtis. She is now teaching children at the same school.
Gareth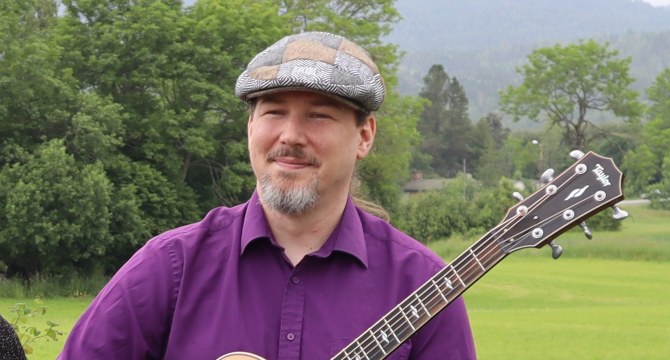 Gareth is a multi-instrumentalist, and has played all around the world, as a pianist, guitarist, singer, and more.
Playing classical, blues, jazz, ska, rock, folk, and any other genre he can get his hands on, Muintir plays to his passion for Irish traditional music – having played in traditional sessions the length and breadth of Ireland and the UK over more than 20 years.
Originally from Ireland, Gareth has performed with The Ice-cream Men (Ska) in the UK, and Uhkapelimannit (Celtic Rock) in Finland. He brings a fresh style of polyrhythmic and neo-trad guitar to Muintir's sound, along with warm vocals for ballads and "come-all ye's" alike, guaranteed to get an audience on their feet and dancing.